Raiffeisen Bank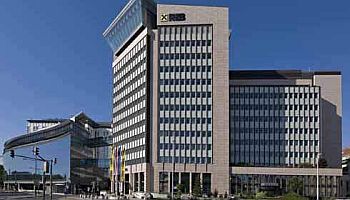 Raiffeisen Bank
Raiffeisen Zentralbank Österreich (RZB) established in 1927, is the central institution of the cooperative banking group. The owners of the Zentralbank are 8 regional banks which in turn are owned by some 550 local Raiffeisenbanks. With a balance sheet total of € 151.3 billion as of 30 September 2009, Raiffeisen Zentralbank Österreich AG is the third-largest bank in Austria and one of the country's leading commercial and investment banks. RZB considers Austria and Central and Eastern Europe as its home market and is one of the region's top-players.
Apart from the focus on Central and Eastern Europe, RZB also provides its services worldwide. Raiffeisen Zentralbank has the strongest Asian presence of any Austrian bank, with branches and representative offices in Beijing, Zhuhai, Harbin, Xiamen, Singapore, Ho Chi Minh City, Hong Kong, Mumbai and Seoul. It is also has offices in New York, Chicago, Houston, Dallas and Connecticut; a branch in London, a subsidiary bank in Malta and representative offices in Brussels, Frankfurt, Madrid, Milan, Paris and Stockholm.
Raiffeisen Bank International AG (RBI) is a fully-consolidated subsidiary of Raiffeisen Zentralbank Österreich AG (RZB). RZB indirectly owns around 78.5 per cent of the common stock, the remainder is in free float. As of 30 September 2009, RBI managed subsidiary banks, leasing companies and a number of other financial service providers in 17 markets of the region. Nearly 59,000 employees serve about 15 million customers in more than 3,100 business outlets.
| | |
| --- | --- |
| RZB's current ratings | Rating |
| Standard & Poor's Short-term | A-1 |
| Standard & Poor's Long-term | A |
| Moody's Short-term | P-1 |
| Moody's Long-term Debt and Deposit | A1 |
| Moody's Financial Strength | D+ |
Raiffeisen Zentralbank address
Am Stadtpark 9
A-1030 Vienna
Austria
Phone: +43-1-71707-0
Fax: +43-1-71707-1715
SWIFT/BIC: RZBA AT WW
Website: www.rzb.at