MBNA Canada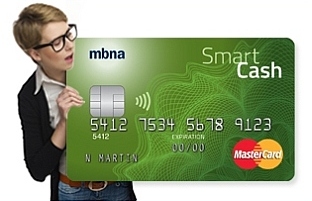 Up to 5% cash back
MBNA Canada, established in November 1997, is the leading credit card provider and the largest MasterCard issuer in Canada. The company is the leading provider of affinity and co-branded credit card programs in the country. MBNA credit cards are endorsed by hundreds of Canadian organizations, credit unions, sports groups, financial and educational institutions and charities. MBNA Canada operates CUETS Financial division from Bank of America in 2011. CUETS Financial is a leading provider of MasterCard products and services to credit unions and caisses populaires in Canada. MBNA offers low rate, travel, cash back, student, rewards and no annual fee credit cards. It offers charity and cause-related credit cards, career and professional credit cards, personal interest credit cards, financial institution and sports credit cards. The company provides financial products and services across Canada from headquarters in Ottawa and offices in Regina.
Popular MBNA MasterCard credit cards:
Platinum Plus (no annual fee)
True Line (no annual fee)
MBNA Rewards (no annual fee)
MBNA Rewards World Elite ($89 annual fee)
Smart Cash Platinum Plus (no annual fee)
Head office address:
1600 James Naismith Drive
Ottawa, ON K1B 5N8
Canada
Phone number: 1-888-876-6262
Website: www.mbna.ca
June 20, 2017
MBNA Canada launched Apple Pay for its MasterCard and Visa credit cards. Apple Pay in Canada is currently supported by Bank of Montreal, American Express, The Royal Bank of Canada, CIBC, Scotiabank, PC Financial, Tangerine, Desjardins, ATB and Canadian Tire Bank.