| | |
| --- | --- |
| | <!— relbanks_fixed_300x250 —> |
| Schoellerbank office in Bregenz | |
Schoellerbank AG is one of the largest and oldest private banks in Austria. With over 300 employees, it is the only private bank which has branches in all provinces of Austria. It has locations in Vienna, Salzburg, Linz, Wels, Innsbruck, Bregenz, St. Pölten, Graz, Klagenfurt and Villach. Schoellerbank is a wholly owned subsidiary of Bank Austria and part of UniCredit Group's Private Banking division. It has approximately EUR 4 billion in total assets and serves over 21,000 private and corporate customers and institutional investors. Assets under management (AUM) increased from EUR 9.72 billion to EUR 10.47 billion in 2015. Schoellerbank was founded in 1833 by Alexander Schoeller and is headquartered in Vienna. Global Finance named Schoellerbank as the "Best Private Bank" in Austria (World's Best Private Banks Awards for 2017).
Head office address:
Palais Rothschild
Renngasse 3, 1010 Vienna
Phone number: + 43 1 534 710
Opening hours:
Monday - Wed, Friday, 8:00 am - 3:00 pm
Thursday, 8:00 am - 5:30 pm
Website: www.schoellerbank.at
Schoellerbank offices: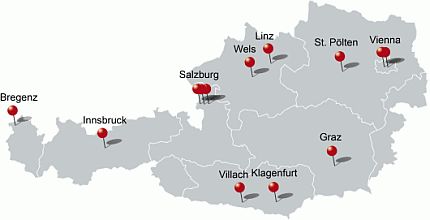 Vienna
Gonzagagasse 19, 1010 Vienna
Phone: +43/1/535 14 36-0
Salzburg
Makartplatz 3, 5024 Salzburg
Schwarzstraße 32, 5024 Salzburg
Sterneckstraße 7, 5024 Salzburg
St. Pölten
Palais am Riemerplatz 1, 3100 St. Pölten
Linz
Schillerstraße 5, 4020 Linz
Wels
Schmidtgasse 18, 4600 Wels
Innsbruck
Museumstraße 5, 6021 Innsbruck
Bregenz
Montfortstraße 3, 6900 Bregenz
Graz
Am Eisernen Tor 3, 8010 Graz
Klagenfurt
Palais Goëss
Alter Platz 30, 9020 Klagenfurt
Villach
Altes Stadtpalais
Hauptplatz 7, 9500 Villach
Corporate Clients
Schwarzstraße 32, 5024 Salzburg