Hypo Landesbank Vorarlberg
| | |
| --- | --- |
| | |
| Hypo Landesbank Vorarlberg new HQ | |
Hypo Landesbank Vorarlberg is one of the largest single banks in Western Austria and the largest bank in Vorarlberg. The bank's offices are located in Bregenz, the capital of the Alpine province of Vorarlberg. The Vorarlberger Landes- und Hypothekenbank Aktiengesellschaft was created by the Vorarlberger Parliament in 1897. In 1996 the Bank was transformed into a stock corporation with the following ownership structure: Austria Beteiligungsgesellschaft (25% + 1 Share) and Vorarlberger Landesbank Holding – Land Vorarlberg (75% - 1 Share).
Some facts
• Balance sheet of total as of EUR 14 billion – largest independent bank in Western Austria.
• 21 branches in Vorarlberg, branches in Vienna, Graz, Wels, Bolzano and St. Gallen (CH).
• About 700 employees
Outside Austria
• South Germany: Thanks to the branch in Kleinwalsertal as well as the participation in the Internationalen Bankhaus Bodensee AG in Friedrichshafen HLV is able to pursue its selective niche policy.
• East Switzerland: The St. Gallen branch is concentrated on investment advising and mortgage financing for small and medium enterprises.
• Italy: The Hypo Vorarlberg Leasing AG in Bolzano and the branches in Como, Treviso and Bergamo are the biggest leasing corporations in the South-Tyrol / Trentino region.
Major subsidiaries of Hypo Landesbank Vorarlberg
• Branch, St. Gallen, Switzerland
• Joint Venture Capital – HUBAG (HYPO EQUITY Unternehmensbeteiligungen AG)
• Leasing – Hypo Vorarlberg Leasing AG, Bozen; Hypo SüdLeasing GmbH, Dornbirn
• Insurance – Hypo Versicherungsmakler GmbH, Dornbirn
• Real estates – Hypo Immobilien GmbH, Dornbirn
Key Figures (In million EUR)
| | | |
| --- | --- | --- |
| | 31.12.2009 | 30.06.2010 |
| Assets | 13.377 | 14.477 |
| Loans and advances to customers | 7.491 | 7.917 |
| Amounts owed to customers | 3.624 | 3.918 |
| Securitised debt | 1.728 | 1.752 |
| Capital resources pusuant to the Austrian | 929 | 976 |
| of which core capital Tier 1 | 597 | 619 |
Bank Branches: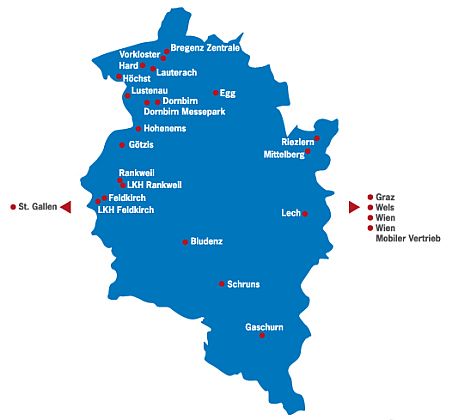 Head office address:
Hypo Landes- und Hypothekenbank AG
Hypo-Passage 1
6900 Bregenz
Phone: 050 414 - 1000 (calls from within Austria)
+43 50 414 - 1000 (long distance calls)
SWIFT/BIC: HYPVAT2B
Austrian bank code: 58000
Website: www.hypovbg.at